Payson

High School




Class Of 1969
IT'S BEEN 50 YEARS!!!!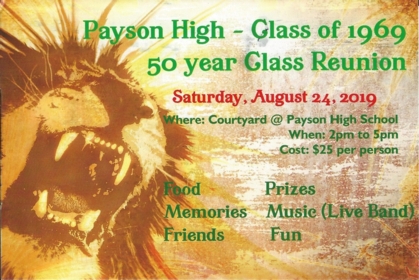 (Click on 50 Year Class Reunion, left side for details)
This website is dedicated to our classmates for reconnecting, sharing announcements and more!
Please let us know if you have suggestions or ideas.
If you are new to the site and haven't registered yet, click on 'Classmates Profiles' find your name and click on it to get started.
If you cannot find your name and you were a classmate at some point in time, we would love to have you join us. Just click on 'contact us' and we will put your name on the list.
Note: The site is privacy protected. The information will not be shared with anyone that has not registered. Also, you have the option of making your profile private so registered classmates will have to ask to make contact with you at which point you can accept or decline
Feel free to post an announcement. (Left column under Member Functions)
ANNOUNCEMENTS
| | |
| --- | --- |
| • | I read Eddie Reynolds obituary June 2019. I thought classmates who knew him might want to know. He was a cute boy, great smile. |
| • | A facebook page has been created for the class of 1969. If you have any pictures you'd like to add, email them to susanlafaele@msn.com and I'll get them put on. I was hoping we could get in touch with more people this way and share memories, pictures and what's happening with each other. If you want to search it, the title is Payson High School Class of 1969. |